Hardy, AR -- mid 1950's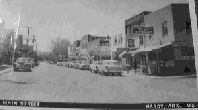 ---

Prior to 1880, Hardy, AR did not exist. Only a few families lived in this heavily timbered area, and not until the completion of the railroad did the boom times come. Thanks to the railroad, much was needed - a water tank to service locomotives, a station to take on and unload passengers and freight, housing for its employees, and various other services. The town of Hardy was officially founded in 1883, and was named for James A Hardy, Jr., a 25-year-old trackage subcontractor who saved his boss's life.

Visit HARDY Website
---
Salem, Arkansas Website
---
KAIT-8-TV Jonesboro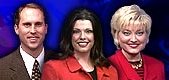 KAIT8.COM
Water Wheel Flea Market
---
Visit Water Wheel Flea Market
---
www.sracc.com
Community Info
---
Click below for AREA WIDE MAP. Excellent overview showing communities in several counties along the Missouri border. Hardy is in the top area of Sharp County (YELLOW).

ozarkgateway.com MAP
Arkansas Statewide
Chambers of Commerce
---
SITE MAP

Don't get lost!
Arkansas maps showing area
Founded in 1856, Ash Flat is located in the foothills of the Ozark mountain range of northern Arkansas. The original settlement of Ash Flat was located on a flat that was overgrown with ash trees, which resulted in the name, "Ash Flat". Ash Flat, (current population 667), became the county seat of Sharp County in 1967.
VISIT Ash Flat Website
---
Cherokee Village, AR
CherokeeVillage.Org
---

Cherokee Village, located by spring-fed rivers for canoeing, it also has 7 lakes for boating, swimming or fishing, 2 Marinas, 2 Championship 18 hole golf courses, 3 recreation centers, nature trails and scenic vistas. Annual events include 4th of July Boat Parade and Fireworks on Thunderbird Lake.


---
---
---
Hardy and area Businesses
Join Us On The WEB!